Toronto Celiac Blog
Gluten Free Table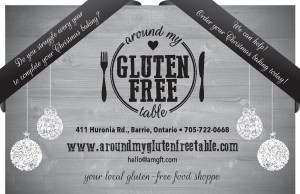 Leave a comment
Launch Party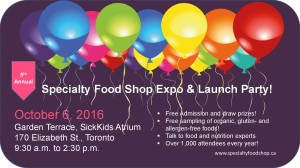 Leave a comment
Arbonne Gluten Free Products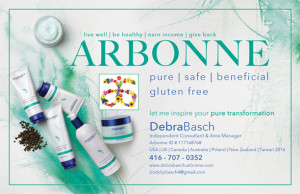 Leave a comment
ANNUAL GENERAL MEETING ON MAY 29/16
If you are a member of the CCA Toronto Chapter and would like to attend the AGM and lunch in Celebration of Celiac Awareness Month  PLEASE EMAIL torontoceliac@gmail.com for location and time and any questions regarding this event.
Thank you
Leave a comment
Gluten Free Garage! 5 Dollars off for Members!
Leave a comment
CELIAC CHRISTMAS AND CHANUKAH PARTY 2015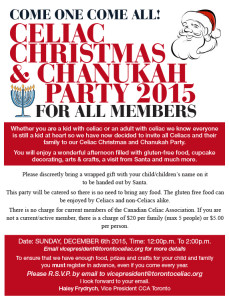 click on post to enlarge
Leave a comment
Upcoming events
RIZ NORTH DINNER
 TO PAY FOR EVENT AT RIZ PLEASE GO TO HOME PAGE AND LOOK FOR PAYPAL. CLICK ON THE LINK TO PAY 
 YOU CAN ALSO DO ETRANSFER TO treasurer@torontoceliac.org 
We have extended the deadline for RSVP and payment until Monday April 30.  For RSVP, payment instructions and/or questions, please send an email to vicepresident@torontoceliac.org.
 DATE: SUNDAY MAY 03, 2015 TIME: 5:30PM- 8:00PM ADDRESS: RIZ NORTH RESTAURANT 3321 Yonge Street, Toronto (east side of Yonge at Fairlawn) RSVP: vicepresident@torontoceliac.org and let me know you are joining us and how you would like to make payment. Please email me if you have any questions. COST: $22.00 per adult $12.00 aged 3-12 including a soft drink, tax and tip already included
ANNUAL GENERAL MEETING
Please also note our upcoming Annual General Meeting taking place on Sunday June 14 at Armour Heights Community Centre, which is located at Avenue Road and Wilson Road. There will be a free gluten-free lunch, as well as a speaker for the adults and activities for the children (and children at heart!). Please send your RSVP to vicepresident@torontoceliac.org.
Leave a comment
Canadian Celiac Association Toronto Chapter – Updates
Research Study Looking for Participants to Complete Survey
A Masters Student in the Behavioural Health Sciences Research Lab in the Faculty of Applied Health Sciences at Brock University is conducting a research study entitled "A Life without Wheat: Dietary Adherence, Physical Activity and Motives", to look at individuals living on a gluten-free diet, their dietary adherence, physical activity levels and the reasons why they engage in these lifestyle behaviours.
This study involves responding to a series of online questionnaires on a secured site that will take approximately 15 minutes of your time.
To participate in this study you must be: (a) self-identified as living on a gluten-free diet, (b) have consented to participate, (c) between the ages of 18-64, (d) must be able to understand and speak English, (e) willing to complete a series of questionnaires and, (f) must have access to both a computer and Internet. 
February 20 is the deadline to complete the survey.
Survey Link: http://fluidsurveys.com/surveys/dmack/amy-thesis/
New Guidelines on Oats Consumption
The Canadian Celiac Association's Professional Advisory Board has issued a new position statement on the consumption of oats by individuals with Celiac Disease.
Please visit the CCA's website by clicking on the following link for the full statement:  http://www.celiac.ca/?page_id=2831
Food Recall
The CFIA has issued a recall for Mann's brand Mediterranean Style Snap Pea Sensations due to undeclared wheat (as well as mustard, sesame and soy).
For more information, including a photo of the product visit the CFIA's website at:
http://www.inspection.gc.ca/about-the-cfia/newsroom/food-recall-warnings/complete-listing/2015-01-19/eng/1421730513089/1421730556698
Leave a comment
HOLIDAY PARTY
The Toronto Chapter's annual holiday party is taking place Sunday December 7  For the first time, we're making this an all-ages event, so both adults and children are welcome.  As always, the party is free for current members of the Toronto Celiac Association, while non-members can attend for a fee.
Join us for an afternoon of gluten-free food, fun, entertainment and of course a visit from Santa!
In order to ensure that we have enough food, you must RSVP in advance to vicepresident@torontoceliac.org
 We hope to see you there!
Leave a comment
Barrie meeting on Wednesday, October 15th, from 6:00 to 9:00 pm
The Simcoe County satellite is holding a meeting on Wednesday, October 15th, from 6:00 to 9:00 pm at the Zehrs community room, 620 Yonge Street, Barrie.  There will be guest speakers, samples, raffles, great opportunity to meet other members with celiac disease.
For more information contact Carol Coelho at 705-431-1814.
Leave a comment